#155 South Florida -12 over Illinois 2:30 PM CT (Chicago)
The Bulls got a big home win last week led by a pair of kickoff return touchdowns while creating a few late turnovers. South Florida has received strong play from Blake Barnett in his first season with the team as he is the leading rusher for the Bulls while a 69 percent passer. Run defense numbers always swell after facing Georgia Tech but Illinois may be a threat on the ground posing 5.4 yards per attempt so far this season.
The Green Sheet had a mildly disappointing season in 2018-19 to end a run of seven straight winning seasons with our Key Selections. We had some nice runs and Rating 5 plays were successful including three straight sweeps in the middle of the season. The Green Sheet isn't intended to be considered direct wagering recommendations […]
Those of you playing with our basketball service have quite a bit of extra cash lying around, why not sign up for the football season now and have that taken care of already by the time the games start next fall. From December 6 to March 1 we have picked up +43.4* for our basketball […]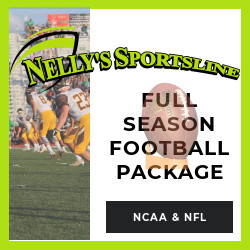 Illinois is 2-0 but through a light schedule and the offense hasn't been able to post big numbers and starting quarterback A.J. Bush played minimally last week after an early leg injury. He isn't likely to play this week and Illinois caught breaks with three turnovers allowing for a convincing win despite a minimal production edge last week vs. FCS Western Illinois.
South Florida won 47-23 in Tampa last season in this matchup with nearly 700 yards of offense and the gap doesn't appear to have closed that significantly. South Florida had a lot go right in last week's big win but Barnett and the offense will only improve with more reps and South Florida is on a 16-10 ATS run in road games. This won't be a true road game in Chicago with Illinois likely shorthanded and overmatched. The spread has grown as some value has been lost but USF still looks worthy of consideration.
Nelly's went 4-0 last Saturday in college football – get an early start 2/3 today!