Five handicappers managed to go 2-0 last week with a a solid overall start for DOUBLE PLAYS, collectively 10-7-1 for a strong start to the contest. Leading the way are ASA, Big E Sports Ticket, Billy Coleman, Point Train, and Victor King!
Check out this week's SINGLE PLAYS & STANDINGS!
Get the DOUBLE PLAYS for Week 2 of the contest for games Sep. 22-24 – just $9 for all 18 picks – that's just 50 cents each!
**Nelly's Green Sheet Issue #24 (NFL Week 15 & 14 Bowls)
Get this week's issue of the Green Sheet newsletter, issue #24 covering NFL Week 15 plus bowl action from Dec.…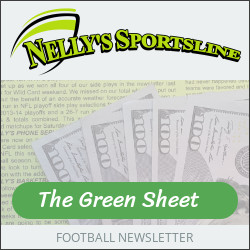 *Nelly's Green Sheet 2018-19 Newsletter Subscription
Sign up for the 2018-19 full season Nelly's Sportsline Green Sheet subscription for the rest of the season. The full…