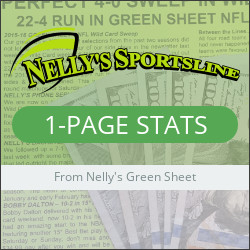 Check out the box scores from last weekend's football action in one convenient page – this content in one of eight jam-packed pages of our the weekly Green Sheet football newsletter, released every Monday afternoon.
1-PAGE FOOTBALL STATS – Sep. 27-30
Sign up for the Green Sheet for just $12 each week or $149 for the entire season subscription. Our Rating 5 Keys are 4-0 the past two weeks with Northwestern's near-upset last week and a blowout from the Patriots in our top picks from last week.
Issue #14 of the Green Sheet will be posted Monday, October 1
*Nelly's 2019-20 Green Sheet Newsletter Subscription
The Green Sheet had a mildly disappointing season in 2018-19 to end a run of seven straight winning seasons with…
Sale!
*Nelly's Green Sheet Off-Season Issue #4
Our third Green Sheet issue takes a look at the five smaller conferences plus the independents in college football with…
Sale!
Nelly's Green Sheet Off-Season Issue #2
Our second Green Sheet issue dives into the 2019 NFL schedule with nearly 3,000 words of analysis plus schedule numbers…