The Eliminator Contest is off to a great start through three weeks with Double Plays hitting 66%.
Eight contestants still have two or fewer points through three weeks with Big E Sports Ticket and Billy Coleman still perfect at 6-0 each!
14 of 18 contestants have a winning record as this is shaping up to be a long contest well into November.
Check out this week's SINGLE PLAYS AND STANDINGS!
Contest Picks are updated every Thursday afternoon – you can purchase the DOUBLE PLAYS for just $9 each week.
*Nelly's Eliminator Contest Week 6 Doubles – Oct. 20-22
Get 16 DOUBLE PLAY Selections in the Eliminator Contest - including Big E's pick (9-0-1 with 0 points)! Six contestants…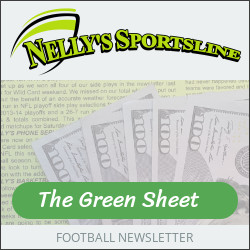 *Nelly's Green Sheet 2018-19 Newsletter Subscription
Sign up for the 2018-19 full season Nelly's Sportsline Green Sheet subscription. Join Nelly's for every issue from August preseason…
*Nelly's Green Sheet Newsletter Issue #16 – Oct. 18-23
Get this week's Green Sheet newsletter covering games from Thursday, October 18 through Tuesday, October 23 in college and pro…
Nelly's ELIMINATOR Double Play Subscription
The Eliminator Contest will start on Thursday, September 13 and will go until the last contestant(s) are standing. The single…