Four featured handicappers also post picks at www.nellysports.com and have selections and subscriptions available through the Nelly's office. All have been with us for more than a decade and have turned in strong results with all four handicappers posting profitable results in the 2018-19 football season. 
Bobby Dalton
Veteran handicapper Bobby Dalton has been providing winners for www.nellysports.com clients for over two decades. His track record is remarkable playing football, basketball, and baseball. Check out his recent football highlights:
Bobby Dalton Football
+154.5* in Preseason NFL picks the last 14 seasons

87-57 in September NFL Picks the last seven seasons

56-37 in August/September NCAA Best Bets since 2005 (11-2 in 15* picks)

5-1 in College Football 15* Best Bets last season

21-11 in NFL 10* Best Bets last season, 32-22 4-year NFL Playoff Run

35-18 in Bowl Picks the past two seasons, 19-9, +83.0* in 2018-19 Bowls

143-101 in Bowl Best Bets the last 22 years – 13-6 run in Bowl GOY picks

23-9 run in Super Bowl Sides & Totals, 9-3 in Super Bowl Props the past 3 years

 
Bobby Dalton is coming off a winning 2018 MLB season including a huge season finish with a 22-10 record in October. Dalton takes great active runs into 2019 including a 72-51 run in Trips-2-Win offers the past three years and a 26-16 run on High Five packages. Dalton went 4-1 in his 15* Best Bets […]
Join Bobby Dalton for all remaining picks in July for a big stretch of summer MLB. Dalton is expecting a 15* this month (3-0 this season) and hopes to build on a great 1st Half Over/Under record. Get daily updates at a great savings over the daily costs in this extended subscription through July 31.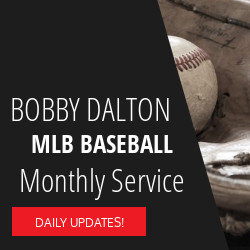 Big E Sports Ticket
The B.E.S.T. is coming off back-to-back strong football seasons with great results on his 20* Conference Game of the Year picks and incredible runs in his 25* Game of the Year selections. Big E also plays college basketball – check out his recent football highlights:
502-450 overall in football since mid-September 2014
+223.5* in 10* & higher Biggie football picks the past two seasons
20* Conference Game of the Year picks are on a 53-34 run since 2011
67-37 5-year run in College Football Bowl Selections
Incredible 17-3 2018-19 College Bowl Season (+134.0*)
59-42 all-time in NFL Playoff Selections
Five straight winning Top 5 Tickets to close 2018-19 (Picks going 18-5-2)
8-0 in NCAA 25* picks the past four seasons
8-1 run in 25* NCAA GOY picks, 6-0 in run in 25* Bowl GOY picks
Point Train Football
Point Train provides college and pro football selections as well as occasional basketball releases. Check out his recent highlights including a huge 2018-19 season.
Profitable regular season in both college & NFL football last season
PLUS over 50 units in 2018-19 College Football
8-4, +20.6 units in the 2018-19 College Bowl Season
14-7, 66.7% in College Bowl picks the past two seasons
24-12 three-year run in NFL regular season over/under picks
2-0 last season in 10-unit picks with College GOY and Bowl GOY wins
Huge 27-12 record in August & September to start last season
Profits in 9 of the first 12 NFL regular season weeks in 2018-19
4-0 in NFL 7-unit Top Plays in 2018-19
Sale!
Point Train is coming off yet ANOTHER fantastic football season which had clients PLUS OVER 50-NET UNITS last college and NFL season combined. Proven winning results year in and year out have the crew at Point Train climbing the ranks as one of the best in the industry. 14 profitable season's, just 4 non-winning or 78% […]
Sale!
Point Train has been one of the most consistent, money-making handicappers in the Sports Gaming Industry for the past 18-seasons with profits for clients in FOURTEEN of those campaigns. It's hard to argue with a 78% success rate isn't it! Point Train's September Trial Offer is a fantastic way for you to try us out and find out exactly […]
Maximum Sports
Maximum is known for top play success and is coming off a fantastic season in the 2018-19 football campaign. Here are some recent highlights.
PLUS 72.3* in 2018-19 Pro & College Football
117-96 run in College Bowl Picks the past 11 years
7-3 in the NFL Playoffs last season
25-11 in the NFL Playoffs the past four seasons
2-0 in NFL 10* Best Bets last season
51-39 run in 10* and higher selections the past 11 seasons
Profits in all four 2018 college football months
15-4 run from NFL Week 2 to Week 5 last season